MINING MUSEUM BREZOVE HORY
- Tour sites »
Site C 'The Vojtěch-Mine'

»

Steam mining engine
The Steam Mining Engine at the Vojtěch (Adalbert) Mine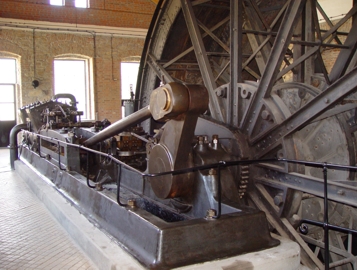 Příbram takes pride in two valuable technical relics. They are steam mining engines produced by the Breitfeld-Daněk Company at the Anna (Ann) Shaft and at the Vojtěch (Adalbert) Shaft. They both belong to the exhibits of the Mining museum Příbram.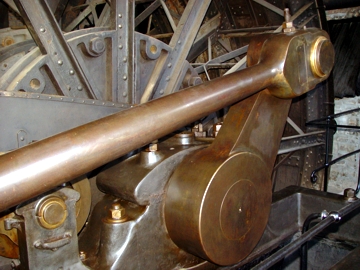 The Vojtěch (Adalbert) steam mining engine with performance of 300 HP (horse power) was made in 1873 and marked by the product number 120563. At the end of the 1880s the engine was reconstructed and modernized to guarantee using double-cages at mining. In 1888-1889 a new compound two-cylinder was installed into the engine room of the Vojtěch (Adalbert) Mine. Its effective power was 450 HP, later it was altered into 500 HP. The engine transported two two-level pit-cages, mentioned above. Each of them had the maximum speed of 9.5 m/s when transporting material. The mine-cable, made by Seal-Warington Company, was able to be used to the depth of 1 300 m. The steam mining engine at the Vojtěch (Adalbert) Mine represented the top of development of that time and it was unique from the esthetical point of view. It worked constantly without any bigger repair works until 1978 when the whole Březové Hory Mining District was closed.
Today, the qualities of the engine described above can be admired by the visitors of the Mining museum Příbram.